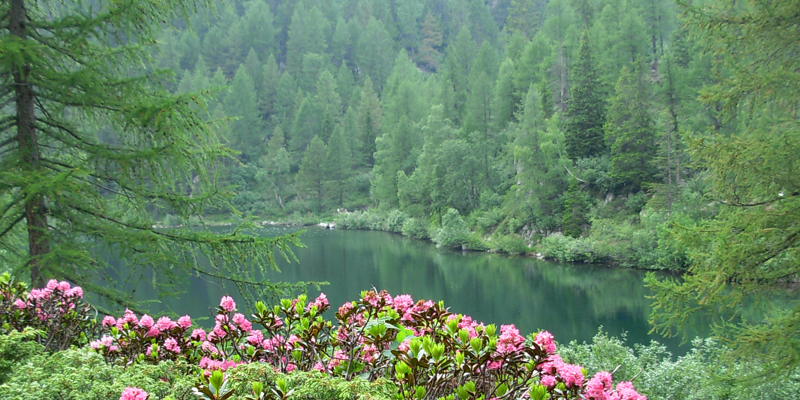 Summer Time…
In summer Passo Tonale is the ideal starting point for walking, mountaineering, climbing and mountain biking. 
ADAMELLO BIKE ARENA is a paradise for bikers with its 500 km of tracks, grouped in 18 itineraries of different difficulty, all of theme digitally mapped. Lots of opportunities also for racing bikers, (es Passo Gavia and Passo Mortirolo).
Trekking, the king of the summer sports, to discover an untouched nature, mountain huts, beautiful lakes where you can appreciate the marvelous sound of nature.
Some lifts open in summer time bring you in high altitude to make "full of oxygen" in scenarios of particular historical interest. One of these is IL SENTIERO DEI FIORI, spectacular "via ferrata" that winds around 3000mt a.s.l., here you find war relics dating back to the First World War fought on these mountains when Passo del Tonale marked the border between Italy and the Austro-Hungarian Empire.
In the whole area are numerous the remains of military villages (eg village Montozzo, Casa Madre, Città Morta), trenches (eg Passo Contrabbandieri etc..), fortess (Forte Mero, Zaccarana, pozzi Alti and Strino), galleries (gallery Paradiso, located at the arrival of Paradiso cable car) often a destination for excursions on foot or by mountain bike.
---
Other sport…
9 hole golf course at Ponte di Legno; fishing in the rivers and lakes of Val di Sole or fly fishing in Val Camonica; rafting and kayaking in river Noce; canyoning with Val Sole mountain guides along "Goion de Stavel"; climbing to the highest peaks of the Trentino (Cima Presanella) and Lombardy and much more.
---
---